Javier Irigoyen-García. Dystopias of Infamy: Insult and Collective Identity in Early Modern Spain. Bucknell University Press, 2022.
Insults, scorn, and verbal abuse—frequently deployed to affirm the social identity of the insulter—are destined to fail when that language is appropriated and embraced by the maligned group. In such circumstances, slander may instead empower and reinforce the collective identity of those perceived to be a threat to an idealized society. In this innovative study, Irigoyen-Garcia examines how the discourse and practices of insult and infamy shaped the cultural imagination, anxieties, and fantasies of early modern Spain. Drawing on sixteenth- and seventeenth-century literary works, archival research, religious and political literature, and iconographic documents, Dystopias of Infamy traces how the production of insults haunts the imaginary of power, provoking latent anxieties about individual and collective resistance to subjectification. Of particular note is Cervantes's tendency to parody regulatory fantasies about infamy throughout his work, lampooning repressive law for its paradoxical potential to instigate the very defiance it fears.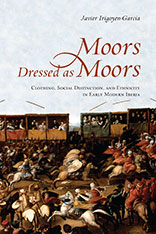 Javier Irigoyen-García. Moors Dressed as Moors: Clothing, Social Distinction, and Ethnicity in Early Modern Iberia. Toronto University Press, 2017.
In early modern Iberia, Moorish clothing was not merely a cultural remnant from the Islamic period, but an artefact that conditioned discourses of nobility and social preeminence. Moors Dressed as Moors draws on a wide range of sources: archival, legal, literary, and visual documents, as well as tailoring books, equestrian treatises, and festival books to reveal the currency of Moorish clothing in early modern Iberian society. The analysis of Moorish clothing production and circulation shows that as well as being a sign of status and a marker of nobility, it also served to codify social tensions by deploying apparent Islamophobic discourses. Such luxurious value of clothing also sheds light on how sartorial legislation against the Moriscos was not only a form of cultural repression, but also a way to preclude their full integration into Iberian society. Moors Dressed as Moors challenges the traditional interpretations of the value of Moorish clothing in sixteenth and seventeenth-century Spain and how it articulated the relationships between Christians and Moriscos.
Marcus Keller and Javier Irigoyen-García, eds. The Dialectics of Orientalism in Early Modern Europe. Palgrave Macmillan, 2017.
Uniting twelve original studies by scholars of early modern history, literature, and the arts, this collection is the first that foregrounds the dialectical quality of early modern Orientalism by taking a broad interdisciplinary perspective. Dialectics of Orientalism demonstrates how texts and images of the sixteenth and seventeenth century from across Europe and the New World are better understood as part of a dynamic and transformative orientalist discourse rather than a manifestation of the supposed dichotomy between the 'East' and the 'West.' The volume's central claim is that early modern orientalist discourses are fundamentally open, self-critical, and creative. Analyzing a varied corpus-from German and Dutch travelogues to Spanish humanist treaties, French essays, Flemish paintings, and English diaries-this collection thus breathes fresh air into the critique of Orientalism and provides productive new perspectives for the study of east-west and indeed globalized exchanges in the early modern world.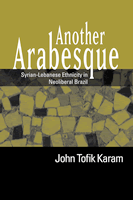 John Tofik Karam. Another Arabesque: Syrian-Lebanese Ethnicity in Neoliberal Brazil. Temple University Press, 2017.
Offering a novel approach to the study of ethnicity in the neoliberal market, Another Arabesque is the first full-length book in English to focus on the estimated seven million Arabs in Brazil. With insights gained from interviews and fieldwork, John Tofik Karam examines how Brazilians of Syrian-Lebanese descent have gained greater visibility and prominence as the country has embraced its globalizing economy, particularly its relations with Arab Gulf nations. At the same time, he recounts how Syrian-Lebanese descendents have increasingly self-identified as "Arabs."
Karam demonstrates how Syrian-Lebanese ethnicity in Brazil has intensified through market liberalization, government transparency, and consumer diversification. Utilizing an ethnographic approach, he employs current social and business phenomena as springboards for investigation and discussion. Uncovering how Arabness appears in places far from the Middle East, Another Arabesque makes a new and valuable contribution to the study of how identity is formed and shaped in the modern world.
Eduardo Ledesma. Radical Poetry: Aesthetics, Politics, Technology, and the Ibero-American Avant-Gardes, 1900-2015. SUNY Press, 2016.
With a broad geographic and linguistic sweep covering more than one hundred years of poetry, this book investigates the relationships between and among technology, aesthetics, and politics in Ibero-American experimental poetry. Eduardo Ledesma analyzes visual, concrete, kinetic, and digital poetry that questions what the "literary" means, what constitutes poetry, and how, if at all, visual and verbal arts should be differentiated. Radical Poetry examines how poets use the latest technologies (cinematography, radio, television, and software) to create poetry that self-consciously interrogates its own form, through close alliances with conceptual and abstract art, performance, photography, film, and new media. To do so, Ledesma draws on pertinent theories of metaphor, affect, time, space, iconicity, and cybernetics. Ledesma shows how José Juan Tablada (Mexico), Joan Salvat-Papasseit (Catalonia), Clemente Padín (Uruguay), Fernando Millán (Spain), Décio Pignatari (Brazil), Ana María Uribe (Argentina), and others turn words, machines, and, more recently, the digital into flesh, making word-objects "come alive" by assembling text to act and seem human, whether on the page, on walls, or on screens.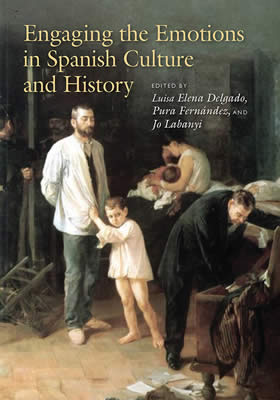 Luisa Elena Delgado, Pura Fernández, and Jo Labanyi. Engaging the Emotions in Spanish Culture and History. Vanderbilt University Press, 2015.
Rather than being properties of the individual self, emotions are socially produced and deployed in specific cultural contexts, as this collection documents with unusual richness. All the essays show emotions to be a form of thought and knowledge, and a major component of social life—including in the nineteenth century, which attempted to relegate them to a feminine intimate sphere.

The collection ranges across topics such as eighteenth-century sensibility, nineteenth-century concerns with the transmission of emotions, early twentieth-century cinematic affect, and the contemporary mobilization of political emotions including those regarding nonstate national identities. The complexities and effects of emotions are explored in a variety of forms—political rhetoric, literature, personal letters, medical writing, cinema, graphic art, soap opera, journalism, popular music, digital media—with attention paid to broader European and transatlantic implications.
Luisa Elena Delgado. La nación singular. Fantasías de la normalidad democrática española (1996-2011). Madrid: Siglo XXI, 2014.
España vive una crisis sin precedentes que ha reducido los problemas de la ciudadanía a cifras y balances que no cuadran. Una crisis que ha enrarecido un ambiente político y mediático en constante ajuste de cuentas, literal y simbólico. A pesar de ello, políticos y personajes públicos de todo signo instan a la ciudadanía a superar «particularismos» para unirse firmemente en defensa de «lo que nos une». Lo que se espera, de hecho, es la adhesión de una ciudadanía cohesionada y dócil a lo que se determina que constituye el "sentido común". La cultura democrática española se sostiene sobre una fantasía de normalidad y consenso que requiere la identificación incuestionable con el todo como única forma de "ser en común". De esta manera, cuando una parte importante de la ciudadanía, por motivos diferentes, no se siente incluida en ese todo, la discrepancia se interpreta como una fractura que debe ser soldada para preservar la cohesión social y nacional. Este libro plantea la posibilidad de analizar la situación con una lógica diferente: la lógica del disenso, que sostiene que la cualidad esencial de la democracia consiste en la apertura a formas singulares de pertenecer a ella, así como en la posibilidad de cuestionamiento de las formas de compartir, dividir, adjudicar y relacionarse dentro de lo común.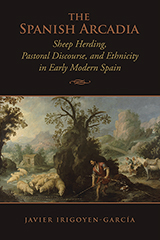 Javier Irigoyen-García. The Spanish Arcadia: Sheep Herding, Pastoral Discourse, and Ethnicity in Early Modern Spain. Toronto: University of Toronto Press, 2013.
The Spanish Arcadia analyzes the figure of the shepherd in the sixteenth- and seventeenth-century Spanish imaginary, exploring its centrality to the discourses on racial, cultural, and religious identity. This book draws on a wide range of documents, including theological polemics on blood purity, political treatises, manuals on animal husbandry, historiography, paintings, epic poems, and ballads, to show the importance of the figure of the shepherd in the reshaping of early modern Spanish identity. The Spanish Arcadia contextualizes pastoral romances within a broader framework and assesses how they inform other cultural manifestations, providing new ideas about the social and ethnocentric uses of the genre.
Mariselle Meléndez. Deviant and Useful Citizens. The Cultural Production of the Female Body in Eighteenth-Century Peru. Vanderbilt University Press, 2011.
Deviant and Useful Citizens explores the conditions of women and perceptions of the female body in the eighteenth century throughout the Viceroyalty of Peru, which until 1776 comprised modern-day Peru, Bolivia, Chile, Argentina, Uruguay, and Paraguay. Mariselle Meléndez introduces the reader to a female rebel, Micaela Bastidas, whose brutal punishment became a particularly harsh example of state response to women who challenged the system. She explores the cultural representation of women depicted as economically productive and vital to the health of the culture at large. The role of women in religious orders provides still another window into the vital need to sustain the image of women as loyal and devout -- and to deal with women who refused to comply.
Dara E. Goldman. Out of Bounds: Islands and the Demarcation of Identity in the Hispanic Caribbean. Bucknell University Press, 2008.
In Out of Bounds, Dara E. Goldman teases out the intricacies of a territorial conception of nationhood in the context of a global reorganization that ostensibly renders historical boundaries irrelevant. Hispanic Caribbean writers have traditionally pointed toward the supposed purpose equivalence of island and nation and have explained local culture as a direct consequence of that equation. The major social, political, and demographic shifts of the twentieth century increasingly call this equation into question, yet authors continue to assert its existence and its centrality in the evolution of Caribbean identity. Goldman contends that traditional forms of identification have not been eviscerated by globalization; instead, they have persisted and, in some cases, have been intensified by recent geopolitical shifts. Out of Bounds underscores the ongoing role of the nation as the site of identity formation.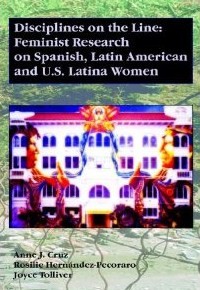 Anne J. Cruz, Rosilie Hernández-Pecoraro and Joyce Tolliver, eds. Disciplines on the Line: Feminist Research on Spanish, Latin American, and U.S. Latina Women. Newark, DE: Juan de la Cuesta, 2003.
This anthology brings together a cross-disciplinary collection of research on gender and sexuality within the context of Spanish, Latin American, and U.S. Latino cultures.  Featuring articles by scholars such as Mary Louise Pratt, Debra Castillo, and Mary Elizabeth Perry, the essays in this volume represent scholarly examinations from a wide range of fields in the Humanities, social sciences, and the arts.
Luisa Elena Delgado. La imagen elusiva: lenguaje y representación en la narrativa de Galdós. Amsterdam/Atlanta: Rodopi, 2000.
La imagen elusiva parte del cuestionamiento de la idea clave en la poética del realismo: la neutralidad del referente, invitándonos a indagar en el concepto de "representación " como construcción ideológica. Apoyándose en un sólido aparato teórico-crítico, en la teoría estética decimonónica y en materiales de archivo, Delgado plantea una reflexión sobre la función del lenguaje como capital simbólico en el contexto cultural e histórico de la España de la segunda mitad del siglo XIX. El estudio analiza cómo la narrativa de Galdós representa la manera en que las estructuras de poder (social, político, económico, sexual) operativas en la sociedad de su época se articulan discursivamente. Asimismo, Delgado demuestra cómo al poner de manifiesto los puntos de articulacion entre lo ideológico y las prácticas discursivas concretas, el proyecto narrativo galdosiano cuestiona las propias convenciones literarias y estéticas en que se apoya la armazón de la novela realista decimonónica. Finalmente, % La imagen elusiva explora también la relación entre subjetividad e identidad social, revelando la imbricación de ambas con el proceso de significación y planteando que en la narrativa de Galdós la conciencia es siempre, como el significado, social, plural y contradictoria.
Joyce Tolliver. Cigar Smoke and Violet-Water: Gendered Discourse in the Stories of Emilia Pardo Bazán. Lewisburg PA: Bucknell, 1998.
As Virigina Woolf would do a generation later, Emilia Pardo Bazán argued that literature should be "androgynous," and that works written by women should be judged by the same standards as works written by men. She ridiculed the notion that "ladies' writing" should send off a delicate whiff of "brisas de violeta" and that "masculine" writing should be redolent of cigar smoke.  Yet her own writing insistently positions gender at the narrative core, both thematically and structurally. This is particularly true of her short stories, a genre she turned to more frequently during the years in which she developed her wider theories of feminism.  Cigar Smoke and Violet Water features close analyses of a selection of these stories, arguing that the stories' commentary on gender mores is reflected in the key roles played by gender in the narrative structure and linguistic discourse of the texts themselves.
Emilia Pardo Bazán. "El encaje roto" y otros cuentos. Ed. Joyce Tolliver. MLA, 1996.
Although written a century ago, the sixteen stories by Emilia Pardo Bazán collected in this volume are strikingly relevant to contemporary concerns. Noted for narrative complexity, stylistic variety, and feminist themes, Pardo Bazán's stories explore many aspects of the relationships between men and women. Readers of these stories will encounter memorable and affecting characters. A mysterious nun spends her days in a convent crying over something that happened to her many years ago, when she was a young woman. A young man tries to uncover the true reason a scheming woman married his uncle. An unwed pregnant woman finds unexpected help from a misogynist doctor. A bachelor wishing to marry develops a special test for prospective wives, only to see it backfire. And in the title story, a bride suddenly calls off her wedding at the last possible moment without an explanation. Both outspoken and witty, melancholy and humorous, these stories will interest general readers as well as students and scholars of Spanish literature.