The Department of Spanish and Portuguese offers classes of Basque for graduate and undergraduate students at the University of Illinois at Urbana-Champaign.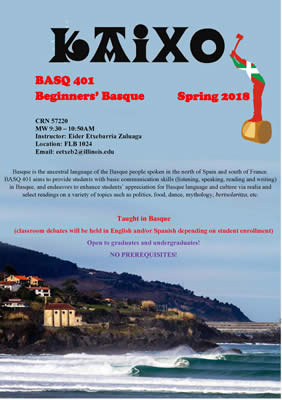 BASQ 401: "Beginners' Basque".
(see our pdf flyer)
Course taught in Basque (classroom debates will be held in English and/or Spanish depending on student enrollment). There are no previous requirements. BASQ 401 aims to provide students with basic communication skills in Basque through active in-class participation and continuous practice. This class creates a student-centered environment where students take on more responsibility. The objective is to then promote and improve students'communicative skills in Basque through weekly contributions to the class Blog (http://basqueuiuc.wordpress.com/), as well as through classroom debates. BASQ 401 endeavors to enhance students' appreciation for Basque language and culture via realia (e.g. songs, videos) and select readings on a variety of topics such as politics, food, musical instruments, dance, mythology, the Basque educational system, bertsolaritza, etc. By the end of the semester, students will be able to hold basic conversations in Basque and they will be prepared to introduce and describe themselves, request information, order food/drinks, talk about the weather, etc. Instructor: Eider Etxebarria Zuluaga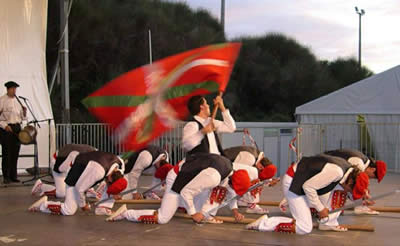 BASQ 402: "Intermediate Basque language and culture".
Course taught in Basque (classroom debates will be held in Basque and supported by English and/or Spanish depending on student enrollment). BASQ 401 or consent of the instructor are required. BASQ 402 is a continuation of BASQ 401. It provides students with continued development of listening, reading, writing and conversational skills. Special focus is placed on major linguistic challenges such as the ergative case and areas of contrast with English such as the tense system. It aims to help students develop a strong grammatical base in Basque, which will encourage them to reflect upon the linguistic complexities of the language. BASQ 402 emphasizes the development of oral skills through weekly in-class debates where students will be exposed to different cultural practices and challenged to make trans-cultural connections between their own culture and the Basque culture. The main goal is to help students develop formal knowledge of Basque grammar through a greater understanding of key grammatical and cultural aspects of Basque. Instructor: Eider Etxebarria Zuluaga.
What students have to say about this class:
"I loved the use of communicative approach, even if the first day was a little confusing the teacher always found a way to get us understand while still speaking in Basque".
"The practice conversation in class was the most valuable; the exercises with other students were great for practicing everything"
"I love learning Basque!"