Melissa A. Bowles, ed. Outcomes of University Spanish Heritage Language Instruction in the United States, Georgetown University Press, 2022.
In the United States, heritage language speakers represent approximately 22 percent of the population and 29 percent of the school-age population. Until now, though, few studies have examined the outcomes of classroom teaching of heritage languages. This volume sheds light on the effectiveness of specific instructional methods for college-level heritage learners. The first of its kind, this volume addresses how receiving heritage classroom instruction affects Spanish speakers on multiple levels, including linguistic, affective, attitudinal, social, and academic outcomes. Examining outcomes of instruction in the Spanish language—the most common heritage language in the United States—provides insights that can be applied to instruction in other heritage languages. These thematically linked empirical studies and their pedagogical implications build a foundation for heritage language instruction and directions for future research. Scholars and educators alike will welcome this volume.
Montrul, Silvina and Polinsky, Maria, eds. The Cambridge Handbook of Heritage Languages and Linguistics. Cambridge University Press, 2021.
Heritage languages are minority languages learned in a bilingual environment. These include immigrant languages, aboriginal or indigenous languages and historical minority languages. In the last two decades, heritage languages have become central to many areas of linguistic research, from bilingual language acquisition, education and language policies, to theoretical linguistics. Bringing together contributions from a team of internationally renowned experts, this Handbook provides a state-of-the-art overview of this emerging area of study from a number of different perspectives, ranging from theoretical linguistics to language education and pedagogy. Presenting comprehensive data on heritage languages from around the world, it covers issues ranging from individual aspects of heritage language knowledge to broader societal, educational, and policy concerns in local, global and international contexts. Surveying the most current issues and trends in this exciting field, it is essential reading for graduate students and researchers, as well as language practitioners and other language professionals.
Henshaw, F. & Hawkins, M. Common Ground: Second Language Acquisition Theory Goes to the Classroom. Hackett Publishing, 2022.
Common Ground presents, in a straightforward and simplified way, the most important concepts, based on SLA research. Students are more likely to retain and apply this important information when it is presented concisely, with many specific examples, as it is in this book.
Salikoko Mufwene and Anna Maria Escobar, eds. The Cambridge Handbook of Language Contact Volume 1: Population Movement and Language Change, Cambridge University Press, 2022.
Language contact - the linguistic and social outcomes of two or more languages coming into contact with each other - has been pervasive in human history. However, where histories of language contact are comparable, experiences of migrant populations have been only similar, not identical. Given this, how does language contact work? With contributions from an international team of scholars, this Handbook - the first in a two-volume set - delves into this question from multiple perspectives and provides state-of-the-art research on population movement and language contact and change. It begins with an overview of how language contact as a research area has evolved since the late 19th century. The chapters then cover various processes and theoretical issues associated with population movement and language contact worldwide. It is essential reading for anybody interested in the dynamics of social interactions in diverse contact settings and how the changing ecologies influence the linguistic outcomes.
Salikoko Mufwene and Anna Maria Escobar, eds. The Cambridge Handbook of Language Contact Volume 2: Multilingualism in Population Structure, Cambridge University Press, 2022.
Language contact - the linguistic and social outcomes of two or more languages coming into contact with each other - starts with the emergence of multilingual populations. Multilingualism involving plurilingualism can have various consequences beyond borrowing, interference, and code-mixing and -switching, including the emergence of lingua francas and new language varieties, as well as language endangerment and loss. Bringing together contributions from an international team of scholars, this Handbook - the second in a two-volume set - engages the reader with the manifold aspects of multilingualism and provides state-of-the-art research on the impact of population structure on language contact. It begins with an introduction that presents the history of the scholarship on the subject matter. The chapters then cover various processes and theoretical issues associated with multilingualism embedded in specific population structures worldwide as well as their outcomes. It is essential reading for anybody interested in how people behave linguistically in multilingual or multilectal settings. 
Jonathan MacDonald and Grant Armstrong, eds. Unraveling the complexity of SE. Springer, 2021.
Takes a unique syntactic perspective on the division of Romance se/si constructions that is based on recent theoretical approaches to linguistic change and clitics. Contains a range of different languages and dialects. Popular and under-studied constructions are analyzed in theoretical detail and framed within larger issues that Romance se/si bears on.
Jonathan MacDonald, ed. Contemporary Trends in Hispanic and Lusophone Linguistics. John Benjamins Publishing Company, 2018.
A panorama of current research into multiple varieties of Spanish from several different regions (Mexico, Puerto Rico, Spain, Costa Rica, Argentina, Bolivia, Peru, Honduras), Catalan, Brazilian Portuguese, as well as varieties in contact with English and Purépecha. The first part of the volume focuses on the structural aspects and use of these languages in the areas of syntax, semantics, sociolinguistics, diachrony, phonetics, phonology and morphology. The second part discusses the effect of interacting multiple grammars, namely, first language acquisition, second language acquisition, varieties in contact, and bilingualism. As a whole, the contributions in this volume provide a methodological balance between qualitative and quantitative approaches to Language and, in this way, represent contemporary trends in Hispanic and Lusophone linguistics.
Alexandru Mardale and Silvina Montrul. The Acquisition of Differential Object Marking. John Benjamins Publishing Company, 2020.
Differential Object marking (DOM), a linguistic phenomenon in which a direct object is morphologically marked for semantic and pragmatic reasons, has attracted the attention of several subfields of linguistics in the past few years. DOM has evolved diachronically in many languages, whereas it has disappeared from others; it is easily acquired by monolingual children, but presents high instability and variability in bilingual acquisition and language contact situations. This edited collection contributes to further our understanding of the nature and development of DOM in the languages of the world, in acquisition, and in language contact, variation, and change. The thirteen chapters in this volume present new empirical data from Estonian, Spanish, Turkish, Korean, Hindi, Romanian and Basque in different acquisition contexts and learner populations. They also bring together multiple theoretical and methodological perspectives to account for the complexity and dynamicity of this widespread linguistic phenomenon.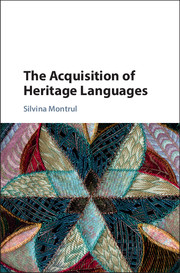 Silvina Montrul. The Acquisition of Heritage Languages. Cambridge University Press, 2016.
Heritage speakers are native speakers of a minority language they learn at home, but due to socio-political pressure from the majority language spoken in their community, their heritage language does not fully develop. In the last decade, the acquisition of heritage languages has become a central focus of study within linguistics and applied linguistics. This work centres on the grammatical development of the heritage language and the language learning trajectory of heritage speakers, synthesizing recent experimental research. The Acquisition of Heritage Languages offers a global perspective, with a wealth of examples from heritage languages around the world. Written in an accessible style, this authoritative and up-to-date text is essential reading for professionals, students, and researchers of all levels working in the fields of sociolinguistics, psycholinguistics, education, language policies and language teaching.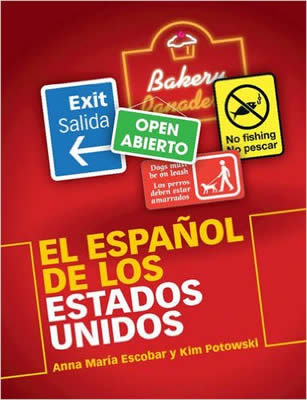 Anna María Escobar and Kim Potowski. El español de los Estados Unidos. Cambridge University Press, 2015.
How long has Spanish been spoken in the US and how many people speak it today? Is Spanish being passed down through generations? What role does Spanish play in US Latino identity? Analysing and synthesising data from a wide variety of sources, Escobar and Potowski explore these questions and more in this up-to-date textbook for students of Spanish language, linguistics, bilingualism, sociolinguistics, culture, and history. • Over 150 exercises help students engage with the linguistic characteristics of Spanish, Spanish-dialect contact, bilingualism, and Spanish communities in the US • Exercises and examples refer students to external, online sources so they can experience Spanish through a range of media • Concepts are clearly defined with detailed examples for readers who may not have a background in linguistics • Misconceptions about Spanish varieties and Latino communities are addressed, ensuring readers will emerge with a clear understanding of how Latino communities vary linguistically and socioculturally.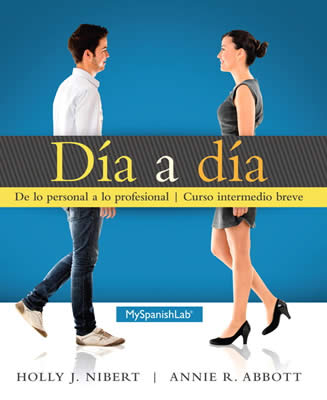 Annie R. Abbott and Holly J. Nibert. Día a día: desde lo personal a lo profesional. Upper Saddle River, NJ: Pearson, 2014
Día a día offers a fresh approach to fourth-semester Spanish by engaging learners in purpose-driven activities about both their personal lives and professional ambitions. Learners envision how Spanish can become part of their own día a día today and tomorrow! The fourth-semester Spanish course can be especially challenging for students, instructors, and departments alike.  It typically concludes a two-year period of basic language instruction; thus, it must meet learners at their current level of second language proficiency and prepare them for the next level of specialized courses, armed with more sophisticated vocabulary, increased grammatical accuracy, sentence- to paragraph-level discourse, and a deeper understanding of Spanish-speaking cultures. The course also needs to sustain or increase students' motivation and interest in continuing their second language studies and departmental enrollment as majors or minors.  With its rich array of resources that include engaging video, Día a día helps instructors break through these challenges and many others.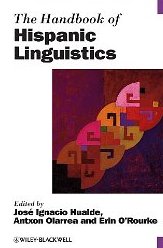 José Ignacio Hualde, Antxon Olarrea & Erin O'Rourke, eds. The Handbook of Hispanic Linguistics. Malden, MA: Wiley-Blackwell, 2012.
It is estimated that there are currently more than 400 million Spanish speakers worldwide, with the United States being home to one of the world's largest native Spanish-speaking populations. Reflecting the increasing importance of the Spanish language both in the U.S. and abroad, The Handbook of Hispanic Linguistics features a collection of newly-written essays contributed by top Spanish linguistics scholars that explore all facets relating to the origins, evolution, and geographical variations of the Spanish language. While coverage is provided on applied concerns such as second language learning, Spanish in the classroom, immigration, heritage languages and bilingualism, several essays also address the significant body of theoretical work emerging in Spanish linguistics in the areas of Phonology, Phonetics, Morphology, Syntax, Semantics, Pragmatics and Psycholinguistics. By combining the most crucial elements of current findings in theoretical and applied research, The Handbook of Hispanic Linguistics sheds new light on the increasing growth and importance of the Spanish language.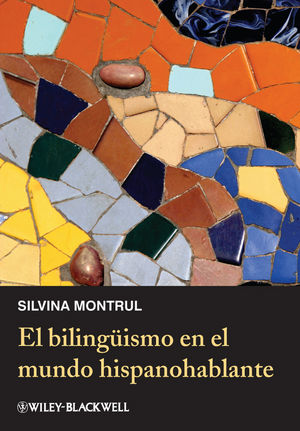 Silvina Montrul. El bilingüísmo en el mundo hispanohablante. Malden, MA: Wiley-Blackwell, 2012.
This wide-ranging introduction to Spanish bilingualism covers the social, political, and cultural contexts of Spanish in the US, Spain, and Hispanoamérica. Written for non-native Spanish learners, it offers the first textbook of its kind for students of Hispanic linguistics.

Esta amplia introducción al bilingüismo en español abarca los contextos sociales, políticos y culturales del español en EE. UU., España y Hispanoamérica. Escrito para estudiantes no nativos de español, es el primer libro de texto de estas características para los estudiantes de lingüística hispánica.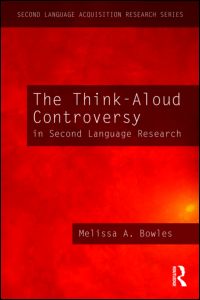 Melissa A. Bowles. The Think-Aloud Controversy in Second Language Research. Routledge. 2010
The Think-Aloud Controversy in Second Language Research aims to answer key questions about the validity and uses of think-alouds, verbal reports completed by research participants while they perform a task. It offers an overview of how think-alouds have been used in language research and presents a quantitative meta-analysis of findings from studies involving verbal tasks and think-alouds. The book begins by presenting the theoretical background and empirical research that has examined the reactivity of think-alouds, then offers guidance regarding the practical issues of data collection and analysis, and concludes with implications for the use of think-alouds in language research. With its focus on a much-discussed and somewhat controversial data elicitation method in language research, this timely work is relevant to students and researchers from all theoretical perspectives who collect first or second language data. It serves as a valuable guide for any language researcher who is considering using think-alouds.

 
Arregi, K., Z. Fagyal, S. Montrul, and A. Tremblay. Interactions in Romance. Selected papers from the 38th Linguistic Symposium on Romance Languages. Amsterdam: John Benjamins, 2010.
The sixteen papers here united have been selected from the 38th Linguistic Symposium of the Romance Languages held in Champaign-Urbana in 2008. The papers, whose authors include both well-known researchers and younger scholars, cover a broad and truly interdisciplinary range of topics in phonology, morphology, syntax, semantics, and their interfaces. Among the plethora of topics examined are stress in Quebec French, vowel deletion in Tuscan Italian, bare singulars in Brazilian Portuguese, case in Romanian, and hiatus in Argentine Spanish. The volume's novelty is to extend the traditional scope of linguistic inquiry to dynamic cognitive and societal connections between Romance and other languages, investigating, among others, how Spanish phonotactics informs psycholinguistic models of speech production, how bilinguals express subject pronouns in Chipilo contact Spanish relative to monolingual Mexican Spanish, and whether Spanish-speaking immigrants in Montreal acquire the constraints typical to natives in loanword adaptations.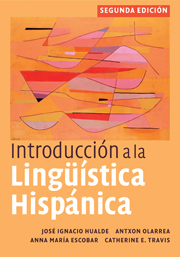 José Ignacio Hualde, Antxon Olarrea, Anna María Escobar & Catherine E. Travis. Introducción a la lingüística hispánica. Cambridge University Press. 2001 [2nd expanded ed. 2010]
Written entirely in Spanish, this is the ideal introduction to Spanish linguistics for students. Using clear explanations, it covers all the basic concepts required to study the structural aspects of the Spanish language - phonetics and phonology, morphology and syntax - as well as the history of Spanish, its dialects and linguistic variation. This second edition incorporates new features designed to enhance its usefulness for classroom teaching: chapters have been added on the sociolinguistics of Spanish in the USA, and on semantics and pragmatics. The chapter on syntax has been considerably expanded. Numerous exercises have been added throughout the book, as well as a new glossary to help with technical terms.
Ann Abbott. Comunidades: más allá del aula. Prentice Hall, 2009.
Comunidades: más allá del aula is the very first Spanish textbook with a complete Spanish community service learning curriculum.  In this increasingly popular method of teaching Spanish, students spend part of their time doing substantial community service learning work within a Spanish-speaking community organization and another part of their time in the classroom. Comunidades gives today's Spanish students exactly what they want: the challenge of learning from native-speakers of Spanish, directly participating in Latino cultures, developing their pre-professional skills and contributing something positive to society within the security of a clear, safe and tested curriculum that fosters their success.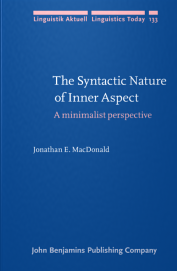 Jonathan E. MacDonald. The Syntactic Nature of Inner Aspect: A Minimal Perspective. John Benjamins, 2008.
This book explores the syntactic nature of inner aspect from a minimalist perspective. It begins with the new observation that there are two independent properties at play in English inner aspect: the object-to-event mapping and event structure. From a discussion of English statives and Russian, it is concluded that the former property is variant and the latter universal; a minimalist conception of language variation arises naturally in this context. Additionally, an exploration of a lexical derivational approach to achievements leads to the expectation that there are no accomplishments in the lexicon. A detailed look at idioms suggests that this expectation is met. These results support the division of labor between an operative lexicon and narrow syntax in aspectual composition; this naturally poses a problem for (neo-)constructional approaches to inner aspect. Finally, one conclusion reached about the syntactic nature of inner aspect regards the object-to-event mapping: it is a purely syntactic phenomenon.
Silvina Montrul. Incomplete Acquisition in Bilingualism. Re-examining the Age Factor. [Series on Studies in Bilingualism]. Amsterdam: John Benjamins, 2008.
Age effects have played a particularly prominent role in some theoretical perspectives on second language acquisition. This book takes an entirely new perspective on this issue by re-examining these theories in light of the existence of apparently similar non-native outcomes in adult heritage speakers who, unlike adult second language learners, acquired two or more languages in childhood. Despite having been exposed to their family language early in life, many of these speakers never fully acquire, or later lose, aspects of their first language sometime in childhood. The book examines the structural characteristics of "incomplete" grammatical states and highlights how age of acquisition is related to the type of linguistic knowledge and behavior that emerges in L1 and L2 acquisition under different environmental circumstances. By underscoring age of acquisition as a unifying factor in the study of L2 acquisition and L1 attrition, it is claimed that just as there are age effects in L2 acquisition, there are also age effects, or even perhaps a critical period, in L1 attrition. The book covers adult L2 acquisition, attrition in adults and in children, and includes a comparison of adult heritage language speakers and second language learners.
Escobar, Anna María and Wolfgang Wölck, ed. Contacto lingüístico y la emergencia de variantes y variedades lingüísticas. Madrid / Frankfurt: Iberoamericana / Vervuert, 2009.
Analiza el contacto lingüístico que caracteriza el multilingüismo de los países americanos modernos. Estudia los perfiles lingüísticos que emergen con la migración y las nuevas ecologías socioeconómicas de la zona.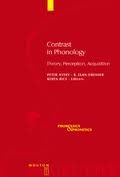 Jennifer Cole & José Ignacio Hualde (Eds.) Laboratory Phonology 9. Berlin: Mouton de Gruyter, 2007.
This book contains a selection of papers presented at the 9th Conference on Laboratory Phonology, which was held in June 2004 at the Beckman Institute for Advanced Science and Technology on the campus of the University of Illinois at Urbana-Champaign. The theme of the conference was Change in Phonology, broadly conceived as to include both language evolution at the level of the speech community and development within the individual speaker/hearer. The chapters in this book are organized in five sections: phonological variation and change within the speech community, mechanisms of change in sound systems, phonological acquisition from different experimental perspectives, second language phonology, modeling of language variation, and segmental and suprasegmental phenomena related to the timing of speech gestures. These topics are explored from a number of perspectives, both within and outside of traditional linguistics. We believe that the papers included in this volume demonstrate that the Laboratory Phonology approach has reached maturity and has succeeded in its aim not only to bridge the gap between phonetics and phonology but also to establish a fruitful and mutually beneficial dialog between linguists and other scientists and scholars concerned with the study of the sound patterns of human language from different perspectives.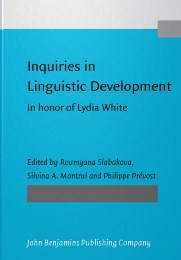 Slabakova, R, S Montrul, and P Prévost. Inquiries in Linguistic Development. In Honor of Lydia White. Amsterdam: John Benjamins, 2006.
The focus of this collection is on important themes in L2 acquisition, the nature of grammatical systems developed by language learners in L1 acquisition, third language acquisition, and bilingualism and language attrition. The chapters present an interesting mix of theoretical contributions, overview studies, and experimental designs exploring various research questions, such as learnability and access to UG, L1 influence, the nature of initial and endstate grammars, and variability. The linguistic domains investigated are also extremely diverse: morphosyntax, phonology, the lexicon, argument realization, language processing, and interface phenomena. This book, edited and written by McGill University alumni, is intended as a tribute to Lydia White's contribution to the field of generative second language acquisition. The authors present current work on language acquisition which further investigates several themes developed by White's research. Through these state-of-the-art contributions the reader will be able to identify important new directions in which generative language acquisition is developing and expanding.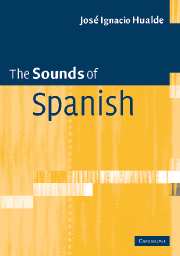 José Ignacio Hualde. The sounds of Spanish. Cambridge: Cambridge University Press, 2005
This accessible textbook provides a clear introduction to the sounds of Spanish, designed specifically for English-speaking students of the language. Assuming no prior knowledge of linguistics, it explains from scratch the fundamentals of phonetics (the study of sounds) and phonology (the study of sound systems) and describes in detail the phonetic and phonological characteristics of Spanish as it is spoken in both Spain and Latin America. Topics covered include consonants, vowels, acoustics, stress, syllables, intonation, and aspects of variation within Spanish. Clear comparisons are made between the sounds of Spanish and those of English, and students are encouraged to put theory into practice with over fifty graded exercises. Setting a solid foundation in the description and analysis of Spanish sounds, The Sounds of Spanish will help students improve their pronunciation of the language, and will also be useful to those studying the linguistic structure of Spanish for the first time. All the sounds described in this book are demonstrated on The Sounds of Spanish Audio CD included with this book.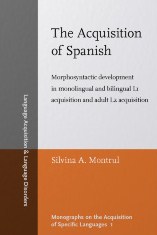 Silvina Montrul. The Acquisition of Spanish. Morphosyntactic Development in Monolingual and Bilingual L1 Acquisition and in Adult L2 Acquisition. [Series on Language Acquisition and Language Disorders]. Amsterdam: John Benjamins, 2004.
This is the first book on the acquisition of Spanish that provides a state-of-the-art comprehensive overview of Spanish morphosyntactic development in monolingual and bilingual situations. Its content is organized around key grammatical themes that form the empirical base of research in generative grammar: nominal and verbal inflectional morphology, subject and object pronouns, complex structures involving movement (topicalizations, questions, relative clauses), and aspects of verb meaning that have consequences for syntax. The book argues that Universal Grammar constrains all instances of language acquisition and that there is a fundamental continuity between monolingual, bilingual, child and adult early grammatical systems. While stressing their similarities with respect to linguistic representations and processes, the book also considers important differences between these three acquisition situations with respect to the outcome of acquisition. It is also shown that many linguistic properties of Spanish are acquired earlier than in English and other languages. This book is a must read for those interested in the acquisition of Spanish from different theoretical perspectives as well as those working on the acquisition of other languages in different contexts.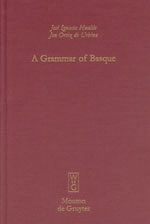 José Ignacio Hualde & Jon Ortiz de Urbina (Eds.) A grammar of Basque. Berlin: Mouton de Gruyter, 2003.
As the only surviving pre-Indo-European language of western Europe, Basque has often attracted the interest of linguists. Whereas, traditionally, descriptive work on Basque has primarily focused on morphological features, including its complex system of verb-argument agreement and its strict ergative pattern of inflection, during the last two decades a new generation of Basque linguists has produced very sophisticated, theoretically-informed work on many aspects of the syntax, morphology and phonology of the language, revealing, for instance, a process of focalization with many interesting properties and the existence in some dialects of an accentual system strikingly similar to that of standard Japanese. The book, bringing together this accumulated knowledge on the structure of Basque, is considerably more complete than any other existing grammar of the language. Another interesting feature of this grammar is that the description is illustrated with fully-glossed examples extracted from a great number of written sources. Although the focus is the modern standard language, dialectal features are considered in detail and examples are taken from all dialects and periods.
Silvina Montrul and Francisco Ordóñez, ed. Linguistic Theory and Language Development in Hispanic Languages. Selected Papers from the 5th Hispanic Linguistics Symposium and the 2001 Conference on the Acquisition of Spanish and Portuguese. Somerville, MA: Cascadilla Press, 2003.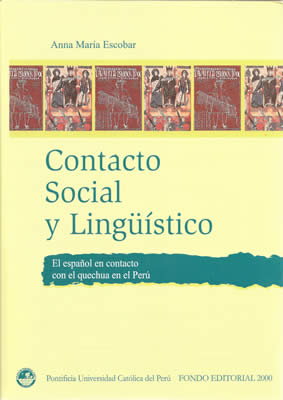 Escobar, Anna María. Contacto social y lingüístico: El español en contacto con el quechua en el Perú. Lima: Pontificia Universidad Católica del Perú, 2000. [Digital version available at the Andean Digital Library]
Este libro constituye un replanteamiento novedoso, tanto conceptual como metodológico, de los problemas que enfrenta el estudio del castellano andino. Su autora propone abordar el estudio del castellano que surge con del contacto con el quechua, no sólo situándolo dentro del contexto histórico-cultural y demográfico de la sociedad peruana, sino teniendo en cuenta -y aquí lo novedoso del asunto- factores lingüísticos que rebasan el concepto mecanicista de las estructuras formales de ambas lenguas para tomar consideración de aspectos propios de la episteme que subyace a aquéllas. De esta manera, la autora presta mayor atención a la dimensión semántica del contacto lingüístico, pues es en este terreno en el que, más allá de los efectos de tipo gramatical, de carácter más bien adquisitivo y al parecer contingente, se resuleven y definen, como resultado de procesos de reorganización y resemantización, las particularidades del español andino. Procesos pragmáticos y comunicativos, tendencias universales, aspectos relativos a la adquisición de primera y segunda lengua ayudan a comprender, en su conjunto, los fenómenos derivados del contacto lingüístico en razón de lo que Malkiel denominaba, y con bastante precisión, causación múltiple. (Rodolfo Cerrón Palomino)