SPAN 248 (LLS 248) - SPRING 2023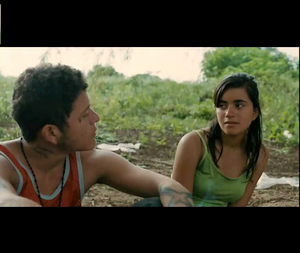 TAUGHT IN ENGLISH, Gen Ed for "Literature and the Arts" and "US Minority Cultures;" This course studies the relationships between Latinx and Latin American culture through exciting films. It focuses on a set of current and relevant topics (migrations, assimilation and integration, ICE, political struggles, globalization, nationalism and transnationalism). No prerequisites. Lectures Online and Section Face to Face.
The class will expose and go beyond stereotypes about Latinx and Latin Americans typically seen on the screen (narcotraffickers, gangsters, undocumented migrants and Latin lovers) while promoting a nuanced perspective on issues affecting Latin@s and Latin Americans in our globalized world. The class will focus on Latinx representation and self-representation, civil rights and discrimination, immigration, identity formation, stereotypes, race relations, class and gender inequality, and other social, political and cultural issues. The class renders a portrait of the Latinx and Latin American experience through film, providing Latinx students with a reflection on their own life experiences and non-Latinx students with a greater understanding of this US minority culture. Finally, the course will provide some basic notions about film form and criticism, so the students gain an introductory understanding of how to study cinema as a specific medium and art form distinct from other cultural representations (novels, music, television). Some of the films we might study: Salt of the Earth (1954), Stand and Deliver (1988), El Mariachi (1993), Real Women Have Curves (2002), Sin Nombre (2009), Ixcanul (2015), Mosquita y Mari (2012), Girlfight (2000), Pelo Malo (2013). You can see a brief video intro to the course here.  For a video preview of the course films click here. 
THIRD YEAR ON OFFER, THIS CLASS FILLS QUICKLY! Sign up soon.
Course Info:   Credit Hours: 3.0
Course Times:    
SIGN UP FOR THE ONLINE LECTURE (AL1) CRN 72909 AND ONE OF THE DISCUSSION SECTIONS 
AL1 - CRN 74792 Online - Lessons and Screenings will be asynchronous (view on your own time).
Discussion Sect:  Discussion sections will be Face to Face, in person (You must sign up for AL1 and one of these sections.)
AD1 - CRN 74784 W 8-8:50 AM
AD2 - CRN 74785 W 9-9:50 AM
AD3 - CRN 74786 W 10-10:50 AM
AD4 - CRN 74788 W 11-11:50 AM
AD5 - CRN 74789 W 12-12:50 PM
AD6 - CRN 74790 W 1-1:50 PM
AD7 - CRN 74791 W 2-2:50 PM
For additional info, contact instructor: