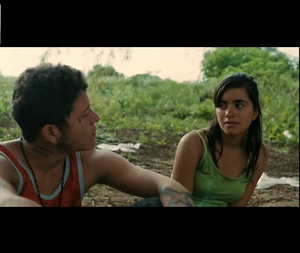 TAUGHT IN ENGLISH, Gen Ed for "Literature and the Arts" and "US Minority Cultures;" The aim of this course is to study the relationships between Latinx and Latin American culture through film. It does so by focusing on a broad set of sociohistorical processes (migrations, assimilation and integration, ICE, political struggles, globalization, nationalism and transnationalism). 
The class will seek to expose and go beyond stereotypes about Latinx and Latin Americans typically seen on the screen (narcotraffickers, gangsters, undocumented migrants and Latin lovers) while seeking a more nuanced perspective on complex issues affecting Latin@s and Latin Americans in our globalized world. The class will focus on topics including Latinx representation and self-representation, civil rights and discrimination, immigration, identity formation, stereotypes, race relations, class and gender inequality, and other social, political and cultural issues. The class, therefore, is meant to render a portrait of the Latinx and Latin American experience through film, providing Latinx students with a reflection on their own life experiences and non-Latinx students with a greater understanding of this US minority culture. Finally, the course will provide some basic notions about film form and film criticism, so the students gain an introductory understanding of how to study cinema as a specific medium and art form distinct from other cultural representations (novels, music, television). Some of the films we might study: Salt of the Earth (1954), Stand and Deliver (1988), El Mariachi (1993), Real Women Have Curves (2002), Sin Nombre (2009), Ixcanul (2015), Mosquita y Mari (2012), Girlfight (2000), Pelo Malo (2013).
Course Info:   Credit Hours: 3.0
Course Times:     AL1 - CRN 72909 Online - Lessons and Screenings will be asynchronous (view on your own time).
Discussion Sect:  Online - Discussion section will be syncrhonous (Live via Zoom) AD2 - CRN 72930 W 4-4:50 or AD1 - CRN 72928 W 5-5:50  or AD3 - CRN 72928 W 5-5:50 or CRN 73956 W 6-6:50
(SIGN UP FOR CRN 72909 AND ONE OF THE DISCUSSION SECTIONS CRN 72930 or CRN 72928 or CRN 73956