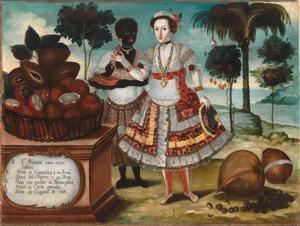 This course examines the relationship between food, culture and society in colonial Spanish America and its impact on our society today. Why we eat what we eat is a product of the encounters between diverse societies (European, indigenous and African) in the past and the result of subsequent centuries of social interactions.
With the arrival of the Spaniards to the Americas, food became an instrument of survival as well as a tool to impose social hierarchies. However, the new environment and their daily contact with indigenous societies transformed the manner in which Spaniards thought about food. For indigenous societies in colonial Spanish America, food also had a symbolic meaning representing an integral part of daily interactions and religious beliefs. African societies that arrived to colonial Spanish America in the early 16th century as slaves also contributed to the transformation of food consumption. Their own diets were affected in their interactions with Europeans and indigenous societies.
Our aim is to read culture through food to better understand its impact on the articulation of social hierarchies, identity constructions, cultural distinction, and power. We will discuss a variety of written and visual texts on the culture of food in Latin America from the colonial period (15th to 18th century) to the 21st century. Prerequisite SPAN 228.
Class will be conducted in Spanish.
Tuesdays / Thursdays
9:30 am - 10:50 am