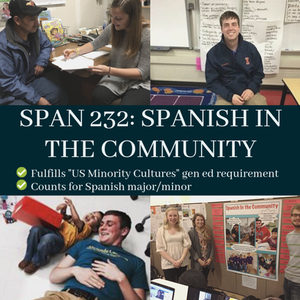 Learn about and from Latinx immigrants living and working in Champaign-Urbana. As you learn about their strengths and challenges, you will see how their realities reflect larger issues of immigration on a global, national and regional scale. You will hear directly from local Latinx leaders and people who stand alongside them, working toward immigrant justice.  
Students will volunteer in the community or virtually. However, if local conditions with the virus are unsafe, students will not volunteer in the community.
*SPAN 232 fulfills the US Minority cultures gen ed requirement. The course is taught in Spanish; anyone who grew up speaking Spanish at home (heritage learners) and/or has taken four years of high school Spanish can join the course and succeed. Click here for specific information about each section.
Prof. Ann Abbott, arabbott@illinois.edu, 4006 FLB