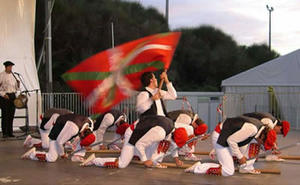 Basque is the ancestral language of the Basque people spoken in the north of Spain and south of France. BASQ 401 aims to provide students with basic communication in Basque, and endeavors to enhance students' appreciation for Basque language and culture via realia and select readings on a variety of topics such as politics, food, dance, mythology, bertsolaritza, etc
Taught in Basque
(classroom debates will be held in English and/or Spanish depending on student enrollment)
Open to graduates and undergraduates!
NO PREREQUISITES!
MW 12.30PM-1.50PM
Instructor: Eider Etxebarria-Zuluaga
Location: 215 Davenport Hall
Email: eetxeb2@illinois.edu