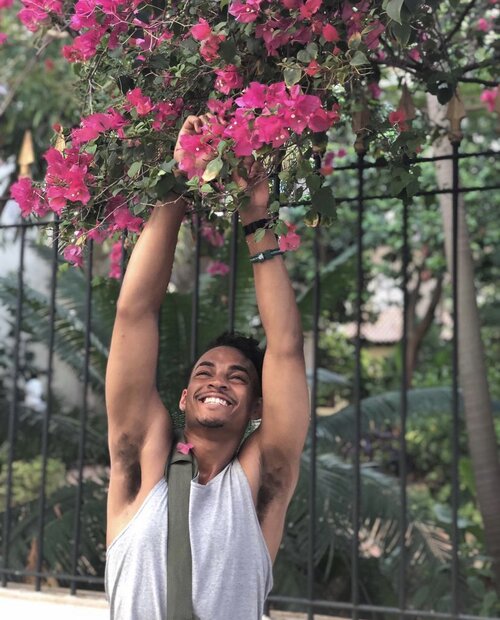 Office Hours
Fall 2022; T/Thr 3:00-4:00
Graduate Student, Teaching Assistant
Biography
Jaime Alejandro Ashby is a graduate student at the University of Illinois at Urbana-Champaign. Ashby's ancestral background consisting of Afro-American, Dominican, and Brazilian roots have influenced their trajectory of studies including themes such as Afro diasporas within the Dominican Republic, Cuba, Puerto Rico, performance studies, and the futurity and pessimisms of Black queerness in the Caribbean and throughout the USA. Ashby received their BA from The University of North Carolina at Charlotte in international studies with a concentration in development and sustainability and then further completed an MA and obtained a translation degree from The University of North Carolina at Charlotte as well. During Ashby's graduate experience at UNCC they focused their studies on the intersectionality of race, gender, class, (sex)uality, literature and other visual arts in the Black Spanish-speaking Caribbean while being a graduate assistant in The University College of Academic Excellence as an advisor for two semesters. Ashby's current interests consist of Black/Afro-descent queer drag gender performance, and identity as a form of resistance to US capitalism, sustainable health care, sex trafficking, sexual tourism, and ultimately white supremacy.
Research Interests
Trauma Studies
Queer Afro-Caribbean Literature
Visual Arts
Afro Diasporas 
Research Description
From the production of visual arts and literatures such as the work Streetwalkers: LGBTQ Lives in Protest in the Dominican Republic by: Ana M. Lara, the script Quíntupules by: Luís Sánchez, and the play Cecelia Valdés o la loma del ángel by: Cirilio Villaverde, gender and sexuality in the Black Spanish-speaking Caribbean can be seen through the bodily intersection of la mulata trágica (tragic mulata). Through this Afro mixed-raced, feminist, and queer perspective Ashby aims to illuminate new forms of psychic and spatial resistance to white supremacy, globalization and blanqueamiento through mulatez. Within this realm of studies, they position la mulata trágica as the negotiator of space between the binaries of Black and white, becoming a historical and social artifact encapsulated by the white voyeurism, sex trafficking and sexual tourism. As of now, they have traveled to Africa, Spain and the Caribbean to investigate new methodologies to resistance studies such as drag shows, experimental film with no visual coherency, fashion, and most importantly literatures that aid in the process of decolonization and modern-day slavery. Their studies advance the investigation of the combination of Black futurity and pessimism by highlighting the traumas of slavery but extracting the cultural and artistic productions rendered through slavery as a means of resistance to blanqueamiento in the Caribbean and the USA.
Education
PhD (in progress) -The University of Illinois at Urbana-Champaign
MA Latin American Studies -The University of North Carolina at Charlotte '21
ATA Translation in Heritage and Cultures -The University of North Carolina at Charlotte '21
BA International Studies -The University of North Carolina at Charlotte '19
Courses Taught
SPAN 130: Intermediate Spanish (Fall 2022 and Spring 2023)
Recent Publications
Southeastern Conference on Latin American Studies Jan 2021. La sexología cubana: The impact of HIV/AIDS Research in Cuba during the Special Period (1989-1996)