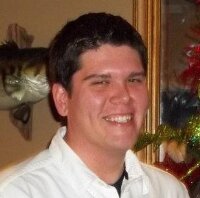 Office Hours
SPRING 2016: Wednesdays, 4-5 PM or by appointment
Biography
I was born and raised in Tuscaloosa, Alabama, and I have been interested in foreign languages for as long as I can remember. In my spare time I enjoy studying meteorology, traveling, and writing fiction. I am currently working toward my Ph.D. in Spanish Linguistics / SLATE (Second Language Acquisition and Teacher Education).
Research Interests
Second/Third Language Acquisition
Multilingualism
Psycholinguistics
Event-Related Potential (ERP) Methods for Second/Third Language Acquisition
Instructed Second/Third Language Acquisition
Computer-Assisted Language Learning
Mobile Language-Learning Technologies
Research Description
As an academic, I have two main objectives: (1) to produce quality research that furthers our understanding of how a second or third language is acquired, and (2) to utilize these empirical findings to improve second and third language pedagogy. I am particularly interested in the use of technology in the language classroom.
Education
B.A., Foreign Languages and Literatures (Spanish Concentration), University of South Alabama, 2012
M.A., Spanish Linguistics, University of Illinois at Urbana-Champaign, 2014
Courses Taught
SPAN 122: Intensive Elementary Spanish
SPAN 141: Introduction to Spanish Grammar
SPAN 142: Spanish in the Professions
SPAN 204: Practical Review of Spanish
SPAN 252: Introduction to Hispanic Linguistics
External Links