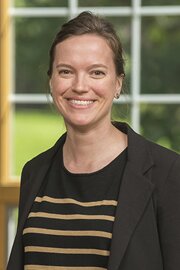 Contact Information
4080 FLB
707 S Mathews
M/C 176
Urbana, IL 61801
Research Interests
20th and 21st-Century Latin American Literature and Film, with a focus on Mexico and Central America
Environmental Humanities: Posthumanism, Ecocriticism, and Animal Studies
Critical Theories of Race, Gender, and Disability
Research Description
Carolyn Fornoff's research explores Mexican and Central American culture through the lens of the environment. Thinking with Latin American writers and artists, her work centers the ongoingness of environmental crisis and its origins in extractive settler colonialism.
At present, Fornoff is writing a monograph, Subjunctive Aesthetics: Mexican Cultural Production in the Era of Climate Change, which assesses the contemporary boom in cultural production in Mexico in response to accelerating climate change and extractivist policies. Fornoff's book tracks the different aesthetic and narrative strategies that Mexican writers, filmmakers, and artists use to respond to various manifestations of environmental crisis, including drought, toxicity, the sixth extinction, and the murder of land defenders. She proposes that uniting these aesthetic strategies is the turn away from art's evidentiary function, and toward its subjunctive activation of ways of imagining the world otherwise.
As part of broader research in the environmental humanities, Fornoff has co-edited two collections:
Timescales: Thinking Across Ecological Temporalities (University of Minnesota Press, 2020), co-edited with Bethany Wiggin and Patricia Kim, brings together interdisciplinary research on the question of time in the Anthropocene.
Pushing Past the Human in Latin American Cinema (SUNY Press, 2021), co-edited with Gisela Heffes, theorizes the rich cinematic production coming out of Latin America that attends to environmental questions.
Fornoff also co-leads the inagural HRI Interseminars interdisciplinary cohort, funded by the Mellon foundation, around the theme Imagining Otherwise: Speculation in the Americas.
Dr. Fornoff is an affiliate of the Center for Latin American and Caribbean Studies, Global Studies, and Media and Cinema Studies. She was named LEAP (Lincoln Excellence for Assistant Professor) Scholar for 2021-2023.
Education
Ph.D. University of Pennsylvania
M.A. University of Pennsylvania
B.A. Rice University
Courses Taught
SPAN 254: Introduction to Cultural Analysis
SPAN 326: Beyond the Human: Animals in Latin American Culture
SPAN 326: Mexican Cinema
SPAN 467: Romance & Race in 19th century Latin American Literature
SPAN 468: Latin American Natures
SPAN 535: Extractivism and Environments in Latin American Cultural Production
SPAN 572: Theory and Literary Criticism
Additional Campus Affiliations
Assistant Professor, Spanish and Portuguese

Recent Publications
Fornoff, C. (2022). Documenting Lifestyle Migration: Anayansi Prado's Paraíso for Sale (2011). In A. Gómez, & F-J. Hernández Adrián (Eds.), The Film Archipelago: Islands in Latin American Cinema (pp. 247-266). Bloomsbury Academic. https://doi.org/10.5040/9781350157996.ch-12
Fornoff, C. (2021). Álvaro Menen Desleal's Speculative Planetary Imagination. Revista Canadiense de Estudios Hispanicos, 44(1), 43-66. https://doi.org/10.18192/RCEH.V44I1.5900
Fornoff, C. H., Kim, P. E., & Wiggin, B. (2021). Coda. In B. Wiggin, C. Fornoff, & P. E. Kim (Eds.), Timescales: Thinking across Ecological Temporalities University of Minnesota Press.
Fornoff, C. H., Kim, P. E., & Wiggin, B. (2021). Introduction: Environmental Humanities across Times, Disciplines, and Research Practices. In B. Wiggin, C. Fornoff, & P. E. Kim (Eds.), Timescales: Thinking across Ecological Temporalities University of Minnesota Press.
Fornoff, C. (2021). Mexican cinema as petrocinema. Studies in Spanish and Latin American Cinemas, 18(3), 377-387. https://doi.org/10.1386/SLAC_00063_1